Steve Noble, our outgoing Play Well Chair and Environmental Specialist for the Kingston Parks and Recreation Department and incoming Mayor, provides us with a vision and a roadmap for a great parks system in Kingston.  Our Live Well Kingston Coalition looks forward to using our past work as a partnership and future opportunities to forward this vision.  
Have you heard about "Complete Parks"?  If you have checked out the Live Well Kingston Travel Well Blog, you know about Complete Streets by now. The simple definition of Complete Streets are streets that provide amenities and safety precautions for all users -motorists, pedestrians, people on bicycles, public transit goers, and disabled people.
But you probably haven't heard of a Complete Park, have you? ChangeLab Solutions has produced a booklet called the "Complete Parks Playbook", a guide to a "Complete Park System." The booklet is designed for communities wishing to make their parks accessible to all potential users. The authors recognize that many of our communities are "park poor" and don't meet the needs of our growing and changing populations. This paradigm takes a ground up approach. I have summarized these key approaches here and plan to use these principles as a guide to implement positive change in our own parks within the City of Kingston.
Engage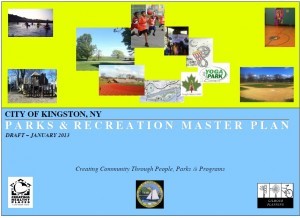 Engaging everyone in the process is the critical step to make sure that parks are designed to meet the needs of the community. Two plans in particular are important: a Parks and Recreation Master Plan and a Bicycle and Pedestrian Plan for the community. In 2013, the City of Kingston completed a Parks and Recreation Master Plan, creating a framework for how to move forward with new and innovative solutions for our city's parks. There is also interest within the community for a bike-ped plan, which could create a cohesive approach to safer, more people friendly access to our city's assets.
Connect
Connecting the community to their natural and recreational assets is key to increasing usage. People need to be able to physically get to their parks via foot, bicycle or public transportation. Through early work in Kingston, with our Healthy Kingston for Kids Safe Routes to Schools and Parks Program, many of the physical barriers to access in Kingston have been documented and with a NYSDOT Safe Routes infrastructure grant some work has been done to mitigate these barriers, including improved crosswalks, sidewalks and intersections.  However, much more work needs to be done to make sure everyone can get to a nearby park safely and efficiently.
Locate
Utilizing the streetscape to connect people to their parks is a model that has worked in many communities by locating parks and play spaces near where the people reside, work and worship. Not all our neighborhoods of Kingston have the space for a traditional park, but new linear parks, corridors and pocket parks, linked by pedestrian safe walkways and sidewalks, can create the safe havens and recreational spaces that many desire as part of their quality of life. The location of these new open spaces, and the proximity of these to residential neighborhoods, allows the city to create parks in new locations and access new population areas that are traditionally underserved.
 Activate
Parks serve the needs of improving health, the environment and even the local economy. Active uses go the next step to engage the user. Programming can help bring people to parks and allow them to build relationships not only with park staff but to the park itself. The programming that the Kingston Parks and Recreation Department currently provides includes numerous opportunities for residents and visitors to interact with, learn about, play in, and truly feel connected to their neighborhood and larger city, but more can always be done. New programs should be identified and implemented either using existing city resources or working with community partners to truly engage the visitors to our park system.
Grow
In addition to growing the number of parks and play spaces within a community, the quality of the space itself should be examined to maximize the ecological benefits, and minimize the impact from each park.  Parks and greenspaces should be developed in a way that is sustainable and includes appropriate city policies for the City of Kingston, such as the Kingston Climate Action Plan, the goals and principles of the Climate Smart Community Program, the Parks and Recreation Master Plan and others when renovating, constructing, planting and managing our park system. This consciousness will allow future infrastructure work done on our streets, parks and linear corridors, to develop consistently with growing Kingston green.
Protect
To many people parks represent recreation, relaxation and respite.  To others, that same space may project fear, anxiety and unknowns. Is this perception or reality? Some people perceive their neighborhood parks as unsafe for a variety of reasons, and whether its perception or reality, work should be done to utilize tools and policies that will improve park visitor safety.  This can be done with maintenance, people-scale lighting, and crime prevention through environmental design.
Fund
Funding constraints make up one of the largest obstacles to park innovation. Our community, along with many others, is  in the process of coming up with creative solutions for ways to fund park improvements, installations and maintenance, whether it's new revenue generating programs, unique sponsorship or ad-based programs.
In summary, it's important to recognize that parks are a critical infrastructure, and a very essential piece of the puzzle that makes a city a healthy, safe and remarkable place to live. In addition to analyzing our streets for their "completeness," let's take a look at our parks and work to make them accessible. Let's make Kingston a healthier place to walk, bike, eat & play!