It's that time of the year again. Have you prepared your garden for the winter? Putting your garden to bed for the winter can be an arduous task. But when you have many helping hands and a willing to learn, nothing is impossible! On September 9, the gardens at the Pine Street African Burial Grounds began its fall clean-up with the help of Ulster YouthBuild.
YouthBuild is a holistic comprehensive job training program that provides education, leadership development, community service, and housing construction skills to youth ages 16-24.  As part of their community service, youth met at Pine Street to support the volunteer garden stewards in a variety of tasks for the annual garden fall clean-up. Youth received directions from volunteer garden steward Laurie Berrios, a Kingston resident and member the Grow Well Focus Team.  "Students were curious how a burial ground was built, so we spent some time reviewing the history and then got to work", said Berrios. Berrios led youth in a variety of tasks which included moving mounds of mulch, repairing broken garden beds, removing invasive plants, removing any dead wood, and moving and preparing soil for its hibernation.
Berrios explained to students the history of the African Burial Grounds. The garden itself, sits in a field separate and adjacent to the sacred burial grounds which were identified by archeologist through Ground Penetrating Radar (GPR Scan) and continue to be studied. This sacred site was used as a burial ground for enslaved Africans between the 1700s and mid-1800s. In 2019 it was protected by Harambee and the Kingston Land Trust in collaboration with Scenic Hudson and will be converted into a community memorial site. YouthBuild students keep an active schedule between hands-on learning in the construction trades through projects across the city, and classroom time focused on academics as they prepare for their equivalency exams. The fall clean-up was an experience and learn more about soil, vegetables, plants, and insects. After all, gardens are magical places of continuous hands-on learning. Students even nibbled on some edible plants for the first time and made friends with a few bugs. They also created a space for themselves to rest and reflect which they called the "Friendship Circle".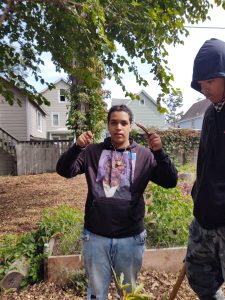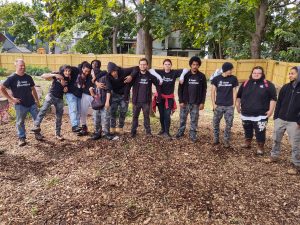 This year's local growing season was impacted by extreme weather conditions. Kingston endured weeks of drought and heavy storms in summer peak months. The July storms caused took down tree limbs, partially destroying the garden's garage structure. YouthBuild's helping hands moved contents from the garage into the basement for safe keeping through the winter until the garage can be repaired.
Despite the unpredictable forces of nature any garden is vulnerable to, the Pine Steet Garden produced various flowers including blazing star, butterfly milkweed, cardinal flower. In the periled vegetable beds, okra, green peppers, eggplant, test kale, culinary and medicinal herbs and parsley were harvested. Plant starters were lovingly donated by Moonrise Apothecary and The YFarm, neighbors, board members and volunteers. The Grow Well Team is grateful to Ulster YouthBuild for their support winterizing the gardens at the Pine Street Burial Ground and the work they performed late summer, designing and building a storage shed at the Rondout Community Gardens.
According to the Farmer's Almanac, preparing your garden for its fall clean-up might include removing any diseased plants, add to or start a compost pile, using your fall leaves to creature a nutritious mulch for soil, protecting fruit trees from rodents, crop rotation, test to improve your soils' PH levels, consider planting garlic before the ground freezes, and remember to remove any garden supports such as cages, stakes, and trellises. For more detailed information, check out the Farmer's Almanac tips on preparing your garden for winter: 10 Tips for Preparing Your Garden for Winter | The Old Farmer's Almanac