Winters can be troublesome in Kingston and the Hudson Valley. Whether you're experiencing a generalized form of the winter blues, or clinical Seasonal Affective Disorder (SAD), we're here for you. We spoke to several local people to get tips on how to cope.
As always, if you like this article, please sign up to receive updates about Live Well Kingston, and learn more about our different working groups that are open for public participation: Age Well, Eat Well, Heal Well, Play Well and Travel Well.
1. Manage depression symptoms
Tabitha Sieloff, LCSW-R is a clinical social worker and owner of Mosaic Community Services in Midtown Kingston.
She says the colloquial "winter blues" manifests with symptoms that are similar to depression.
"People definitely have extra fatigue and difficulty engaging in the activities they would typically enjoy," she said. "Hygiene can also become an issue. Showering, taking care of household chores. People who might have otherwise well-managed depression can have an increase in these symptoms in the wintertime."
To start to bust out of the winter blues, she recommends three things:

Take a Vitamin D supplement
If you can't get outside into the sunlight, use a sunlamp (which can cost around $50) to simulate the natural sun
Exercise, ideally in the morning
"If you're doing that trifecta in the morning, you can release endorphins that really help break through the depression," she said. "If you just do one or two of those things, it's not effective as doing all three."
Although it's a little late for this winter, she recommends making a plan for managing the winter blues before next winter.
"I talk to people starting around September with their plan for winter," she said. "It's a lot easier to keep it going if you start it before winter hits."

When to consider therapy
"I usually say that therapy is just one way for people to heal," Sieloff says. "It's not the only way. For many people it's yoga, or religious activities, or reading a lot of self-help books. If your natural supports that are in place aren't enough, and you've tried some things, then you should look out for additional help."
"Therapy isn't forever," she added. "It can be a for a time period to get you through something difficult that your natural supports aren't enough for. Then you can go on with your life."
2. Go to free health events and support groups
We recently covered seven websites and organizations that promote and facilitate free health events and support groups in our community.
3. Stick to a sleep routine
"It's impossible to overstate how important sleep is to good health," says Dr. Barbara Chatr-Aryamontri, medical director of the Hartman Sleep Center at HealthAlliance Hospital: Mary's Avenue Campus. "It affects our immune system, hormones, appetite, weight, thinking, energy, concentration, temper, mood — even life expectancy."
To get good sleep, sticking to a sleep schedule is cited in many articles about beating the winter blues. Some tips for doing that include:
Setting a consistent bedtime
Make gradual adjustments to your sleep schedule
See the morning light, by opening the curtains or having coffee on your porch
Dim or turn off lights close to bedtime
Avoid computers, tablets, cellphones and TV an hour before bedtime
Try to not snooze your alarm
Have dinner at the same time every night, two or three hours before bedtime
If you can't stick to a sleep routine and have some form of insurance, it might be a good idea to consider a sleep study – "a noninvasive, overnight exam that lets doctors monitor you while you sleep to see what's happening in your brain and body."
"For this, you go to a sleep lab such as ours and sleep overnight at the center or in your own bed," says Chatr-Aryamontri, who is board certified in pulmonology and sleep medicine.
While you sleep, an EEG monitors your sleep stages and cycles, which finds any sleep disruptions, eye and body movements, heart and breathing rates, and oxygen levels in your blood.
4. Go for a winter hike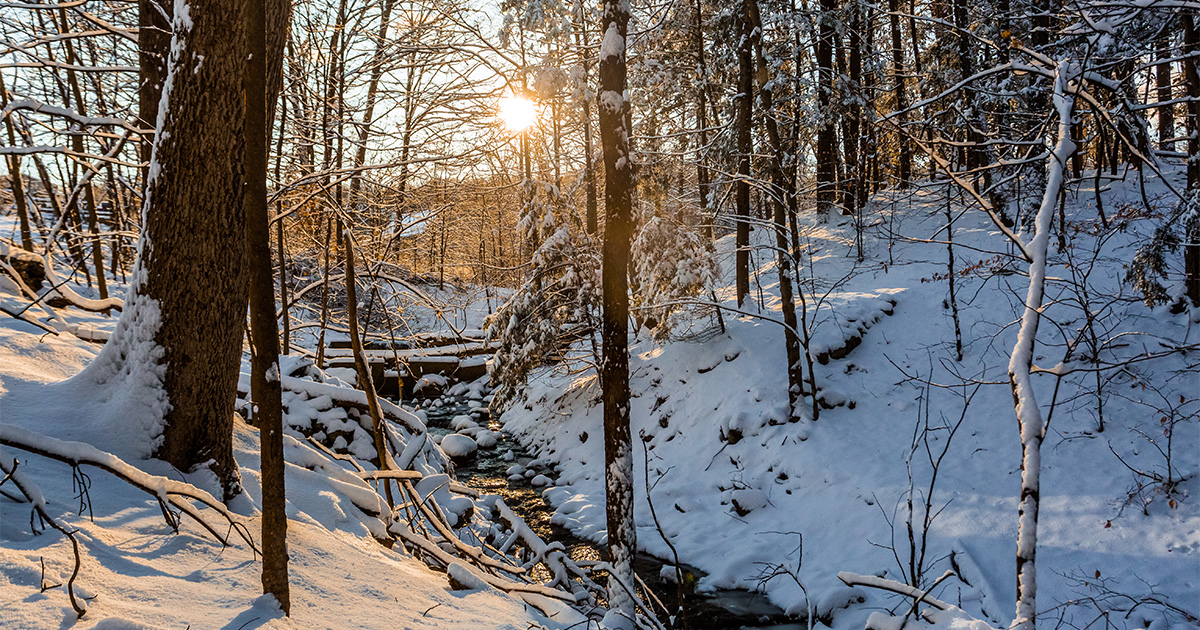 Hiking is a popular activity in the Hudson Valley and Catskills in the summer and fall, and some of the more challenging and steep hikes can be inaccessible when there's snow and slush on the ground. But according to Mike Todd, the creator of Hike the Hudson Valley, there are some advantages to going hiking during the winter.
"If you show up on a nice fall weekend at Mohonk Preserve or Sam's Point, you can show up at 10:15 in the morning and not be able to get into the parking lot," he said. "Winter is an easy time of year to find some solitude on the trails. The people who were packed in during the summer and fall are at home watching Netflix."
Other benefits of winter hiking include not encountering snakes or mosquitoes, and a reduced risk of Lyme disease.
Todd recommends looking for hikes with gentle inclines, to remember that walking in the snow is more taxing than in normal conditions, and to consider additional gear like trekking poles and traction cleats for balance.
"For clothing, you definitely need a jacket, a backpack, and a bunch of layers," he said. "At some point, you will get hotter and will want to stash your jacket somewhere. Wear thermal underwear under your hiking pants, and maybe a waterproof layer on top of that. It's better to start off with too many layers than too few."
Some of Todd's picks for winter hikes near Kingston include:
"Go hiking with somebody else when you can," Todd concludes. "Especially this time of year, the stakes are a little higher if you get lost or slip and get hurt."
5. Socialize
Five years ago, Kevin Godbey was retiring from IBM and looking for something fun and productive to do. Since then, he's managed a site called Kingston Happenings, a constantly-updated guide to business and community events in the Kingston area.
The site has generated millions of pageviews, and is an important resource for people who are looking to beat the winter blues with socializing and new experiences.
"It's sort of a bird's-eye view of what's going on in the community," Godbey said.
The site includes nightlife and entertainment, a section for kids and families, health and fitness classes, and a community meeting calendar.
"A lot of people have different interest areas," Godbey says. "If it's music, there are a wide variety of music for a lot of venues, even alcohol free ones, if you're skittish of the bar scene. If you're into history, the Maritime Museum has talks and lectures all the time. There's comedy, art, there's a little bit of everything. We've got more yoga studios than you can shake a stick at. Just ask yourself what you'd like to do and you can find it."
Godbey said that many local spaces allow for people to socialize at their own pace.
"Many local venues have made an effort to create space for lots of different people," says Godbey. "You can hang in the corner and watch people go by, or you can mix and mingle. Either way, you can be comfortable."
He adds that socializing locally can give people a more positive perspective on the world.
"You can be in proximity with people who are active and positive about what they're doing," he says. "It gives you a much better perspective than watching tv and hearing bad news and focusing on that. You can see lots of people trying to accomplish something, and talk to people about your commonalities or differences."

Make healthy choices while you're out and about
If you take one of Kingston Happenings' recommendations and find yourself out at a local eatery or bar, you can still make a healthy choice for what to eat! Read our recent blog post on the topic.