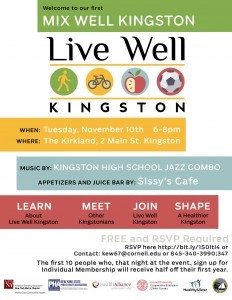 The Live Well Kingston coalition is holding its first membership mixer, and you are invited to join us.  Come out of the cold on Tuesday, November 10th from 6 to 8 pm into the Kirkland at 2 Main St. in Kingston.  Sissy's Cafe will be providing some warming, healthy appetizers and a juice bar so you can stock up on your vitamins and antioxidants to fight the winter colds.  If you haven't had a chance to see the enticing Kingston High School Jazz Combo perform, here's your opportunity.  They'll keep us tapping our feet as we chat about how to make the healthy choice the easiest choice anywhere you go in Kingston.
You'll meet the Live Well Kingston coalition members and learn about our activities, and you'll have an opportunity to join us.  The first ten people who sign up to be Live Well Kingston Individual Members at the event will receive half off of their first year membership dues.
So come on out of the cold and warm up with us!  The event is non-alcoholic, and youth are welcome to attend. An RSVP is required so please us know if you plan to come by clicking the link above.