The average life expectancy of citizens living in the City of Kingston can range anywhere from 75 to 80, according to a new interactive tool created by the Robert Wood Johnson Foundation. The neighborhood-level data is evidence that our health is determined as much by where we live as it is by our individual health choices. Having access to quality healthcare is one critical element, but a community's available supports for seniors, transportation, healthy food, good schools, affordable housing, and public spaces for exercise and play can also play a major role.
What role can the City of Kingston play in our health?
The City of Kingston has a long history of caring about the health and wellness of its citizens, starting with the 1883 establishment of a health department. At the time, the department consisted of six appointed commissioners, a Health Officer and a Sanitary Inspector.
In 2014, former Mayor James Sottile re-affirmed the civic mandate of health and wellness, stating "You are required to keep the health, safety and welfare of 23,000 people in your mind all the time."
Kingston's current mayor, Steve Noble, has continued in that tradition, stating in a 2017 speech, "I am well aware of the negative impacts obesity and other chronic illnesses can have on our community… I am committed to bringing together community partners to further our wellness efforts and establish the Live Well Kingston Commission."
What is Live Well Kingston?
Live Well Kingston was first formed in 2013, and was officially sponsored by the city in 2017. Our mission is to promote the advancement of a healthy and active community by bringing partners and residents together to facilitate policy, environmental and systems changes.
Live Well Kingston consists of five active sub-committees:
Age Well
Eat Well
Heal Well
Play Well
Travel Well
So far in 2018, stakeholders from 38 local organizations have attended over 35 Live Well Kingston sub-committee meetings. The organizations include (not a complete list):
Government bodies: City of Kingston, Ulster Health Department, The Kingston Land Trust, Kingston City School District
Healthcare providers: HealthAlliance of the Hudson Valley, Institute for Family Health, Stockade Wellness, Rose Women's Care Center
Health-related non-profits: Cornell Cooperative Extension, People's Place, O+ Festival, HealthLinkNY
Food insecurity organizations: People's Place, Feed HV Food Rescue Network, Eat Smart NY
Fitness studios: Innate Movement Parkour, Anahata Yoga, Bodies by Colotti, Mudita Yoga Lab
Senior groups: Seniors Staying and Servicing in Place, Esopus Senior Group, Yosman Towers & Governor Clinton Management
Getting all of those stakeholders to talk to each other, share resources and partner on projects is a major endeavor, and last year, the Novo Foundation announced that it would fully fund the creation of a part-time position called the Director of Health and Wellness for the City of Kingston.
Enter Emily Flynn, a local graphic designer and longtime bicycle advocate.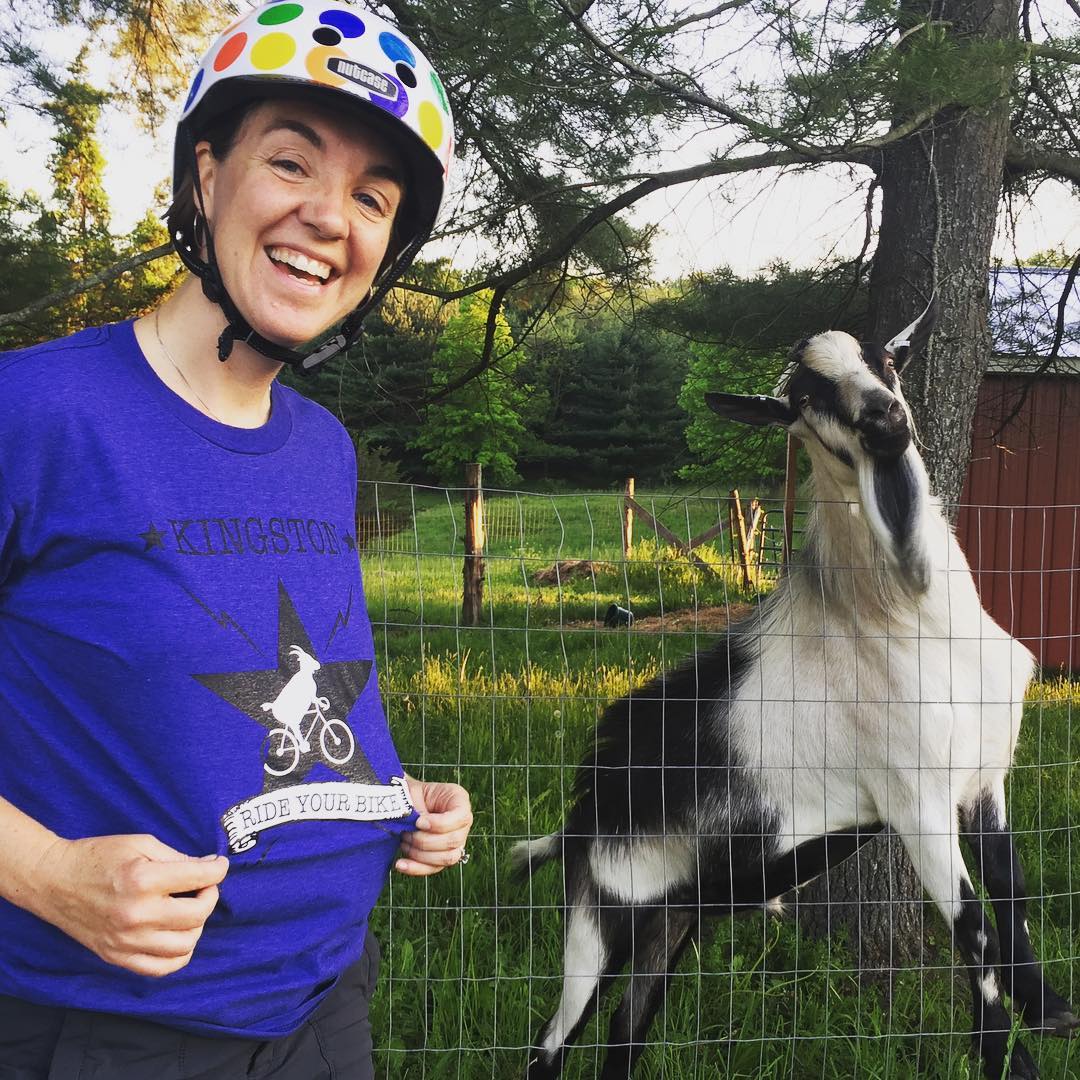 "The majority of my time is spent managing Live Well Kingston," she says. "I also look into the health issues of our city and am a liaison to the community, with groups like the Kingston City School District Health & Wellness Committee, Bringing Agencies Together, Healthy Ulster Council and Seniors Settled and Serving in Place groups."
Flynn believes that there are huge costs to our city when safety net programs fall short.
"It will always cost our community in some other way," she says. "If we can help kids eat healthy when they're young, they'll be healthier adults. If they learn how food is grown and how to cook, they'll be happier, healthier, have less medical issues, work more and take less sick time. If we can coordinate our community to ensure that kids are not hungry and eating healthy food, the benefit to our society is exponential."
Successes in 2018
In 2018, Live Well Kingston organized a free healing salon event at the Lace Mill and jump-started a Cyber Seniors program to help local seniors gain computer skills. They conducted surveys of local parks, of local senior health, of city employees' health, and of the number of bicyclists and pedestrians on Broadway.
Flynn said that when local health stakeholders get in a meeting together, it's easy for partnerships to happen.
"At an Eat Well Kingston meeting two groups were able to share resources: a gardener at the GW School Community garden mentioned they had an empty plot and the Hudson Valley Seed organization said they had extra seedlings. Just by being in a room together, these people can say that they have more of this, but need more of that, and they can work together."
Some other partnerships in the works include a local pre-school visiting with seniors at Yosman Towers for an inter-generational playdate, and the Institute for Family Health collaborating with local seniors to make their online health portal more accessible.
Looking ahead to 2019
Flynn's role has also included supporting Kingston's grant writing in the areas of health and wellness, which will continue next year.
"We did an application for a bicycle and pedestrian master plan," she says. "There are also a couple of transportation projects that I have provided support for. There are more grants we're going to apply for that will really highlight the different health initiatives in our community."
Flynn is also building a workplace wellness program for City of Kingston employees, which she hopes will eventually expand into a sixth Live Well Kingston sub-committee: Work Well. A greater emphasis on workplace wellness will contribute to city employee's quality of life and productivity.
"We've brought in a yoga instructor who has taught employees, and we also have started taking a 45-minute walk on Mondays," she says. "It's a start of a "Work Well" movement that will meet people where they are."