MAY IS MENTAL HEALTH AWARENESS MONTH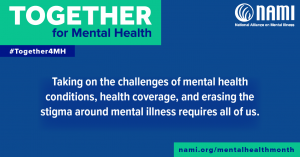 Mental illness affects more than 50 million Americans, with 1 in 4 Americans experiencing a mental health condition each year. But when we talk about mental health, it's not just people experiencing a particular condition or illness; we all have mental health. Just like it's important to take care of our bodies and physical health, it's important to take care of our minds and mental health.
MENTAL HEALTH RESOURCES
In honor of Mental Health Awareness Month, the Heal Well focus group of Live Well Kingston is excited to host a virtual Together for Mental Health panel on Thursday, May 5th at 5:30pm. 
Checking this blog post before Thursday, May 5th at 5:30pm and want to join the Together for Mental Health panel? Click here to join the Zoom conversation, or watch the livestream at youtube.com/c/CityofKingstonNY. The recording will be made available on the City of Kingston's Youtube page following the event.
During this panel, we will bring together a variety of experts in the field. And because we know that working on your mental health is not just a one-time thing, we have collected a few resources to share. 
Please note, these resources are up to date as of May 5th, 2022. Please be sure to reach out directly to each organization, company, or individual to confirm services offered.
WHAT DO YOU WANT OR NEED?
I want someone to talk to.
Ulster County Mobile Mental Health
(844) 277-4820
You can call between 10am-10pm, 7 days a week, to speak with someone.
Family of Woodstock's 24/7 Call/Text Line
(845) 679-2485
Call or text their hotline anytime to receive help.
People USA has staff available 24/7/365 to support you. Check out their websites for hotlines for those going through a crisis, needing integrated peer services, peer advocacy support, and more.
I have been having thoughts about harming myself, or a loved one has been affected by suicide.
(800) 273-8255
The Lifeline provides 24/7, free and confidential support for people in distress, prevention and crisis resources for you or your loved ones, and best practices for professionals in the United States.
Now Matters Now is a collection of resources, videos, and stories to support people with suicidal thoughts. Their website also includes research based ways for managing the most painful moments of life. They teach Mindfulness, Mindfulness of Current Emotion, Opposite Action and Paced-breathing, skills that are part of Dialectical Behavior Therapy or DBT, proven to be helpful for people considering suicide.
A Different Cry is a powerful video that explores the rising suicide rates among Black youth in America. Please exert caution for your own mental health as this can be a very emotional watch for some.
I want to see someone about my mental health.
Ulster County Mental Health Department
(845) 340-4110
They are able to help you find the right provider, connect you to supportive services such as care management and peer support, and help you navigate their system of care.
(888) 750-2266, Option 2 
368 Broadway Suite 205,  Kingston NY
Available 10am-6pm Mon-Fri in-person and 24/7 virtually, they can offer assistance in a variety of ways, supporting both individuals and families, from those with significant medical or behavioral issues, to others who live independently with minimal help.
1 Family Practice Drive, Kingston, NY 12401
(845) 338-6400
The Institute for Family Health offers counseling and other services, including psychiatric care and medication, for children, adolescents, adults, and families.
I need addiction services.
(845) 458-7455
This County service helps you navigate treatment options as well as providing overall guidance and support. 
150 Sawkill Rd, Kingston, NY 12401
(845) 853-8148
The Samadhi Recovery Community Outreach Center  is a non-profit organization that offers recovery services and many free classes and groups to support recovery.
ORACLE (Opioid Response As County Law Enforcement) 
(888) 996-0940 
A rapid response team sponsored by the UC Sheriff's Office. All calls are free and confidential and the Team consists of Peer Advocates, mental health professionals and rehabilitation specialists who are there to help you and your family, on your terms, without judgment or legal consequences.
Catholic Charities Centers of Treatment Innovation (COTI) 
(845) 281-8478
A team of peers and clinicians will support you and your family regardless of where you are at in the process of recovery.
I'm looking for community support.
Mental Health Association of Ulster County's calendar lists many free classes and support groups.
NAMI (National Alliance on Mental Illness) hosts a number of support groups, classes, and presentations.
I have many questions and just want everything in one place.
Wellness Recovery is a listing of community resources available in and around Ulster County, NY. Maintained by the Mental Health Association in Ulster County, this resource provides a central place for you to find the next step on your recovery journey.
MHA also has a Mental Health Screening to help identify if you or someone you love is facing a mental health challenge.
I am looking for free or low cost wellness classes and services.
People's Place Wellness Empowerment Center
17 St James St, Kingston, NY 12401
(845) 338-4030
Free workshops, such as Mindful Monday and Wellness Wednesday, Monday through Friday. Check out their calendar online for details.
(845) 867-7008
A group of practitioners who offer free holistic health care on the first Wednesday of the month at People's Place and the third Tuesday of the month at the Marbletown Community Center. In addition, they offer a week of free virtual appointments, usually the last week of the month, in addition to a variety of group classes, both in person and virtual. To stay informed and sign up for these offerings, see their calendar and join their mailing list.