You may have noticed lots of news a few weeks ago about the new and updated Dietary Guidelines for Americans.  So what are these guidelines and what makes them important?  The Dietary Guidelines  are issued every 5 years by the USDA to give advice about a healthy diet that prevents disease.  More importantly, the guidelines shape nutrition programs that serve millions of people every day, such as the National School Lunch Program. 
Since the guidelines are based on years of research and don't take health and food fads into account, they can be counted on as a consistent and reliable source of nutrition advice for healthy children and adults.  In fact, the new guidelines have changed remarkably little from the last version.  They continue to recommend the same building blocks of a healthy diet based on plant foods, like fruits, vegetables, and whole grains, and to limit unhealthy saturated fats and added sugars.
One very important thing that has changed is a specific limit on added sugars in our diet.  The USDA now says that added sugars should account for no more than 10% of our total calories.  To put that number in perspective, we should not be eating or drinking more than about 200 calories of added sugar a day.  It might sound like a lot, but a 20-oz bottle of soda alone can have up to 240 calories, all from added sugar.  Not to mention the sugar that is added to our coffee, yogurt, cereals, and snacks during the day. 
Almost ¾ of Americans are already eating too much added sugar, so limiting it may be a very big change, but benefits to health would be enormous.  Some of the ways limiting added sugar can improve health are by reducing the risk of Type 2 diabetes, helping maintain a healthy weight, and improving dental health.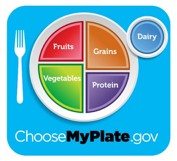 Wading through all of the information on a Nutrition Facts label can be daunting and confusing.  Luckily, Eat Smart NY is a program across New York State that educates people to make healthier decisions about foods they buy, eat, and drink.  Eat Smart NY targets people that are eligible for SNAP or other benefits through nutrition workshops, cooking demonstrations, and health fairs.  We also help organizations, schools and communities that want to make healthier choices the easier choices.  To find out how Eat Smart NY can provide education in Kingston or another community in Ulster County, contact Cornell Cooperative Extension at 340-3990.