Back in May, we published a map of 40 businesses and organizations in Kingston that offer some kind of coaching or instruction for physical activity. We reached out to three of the specialty gyms' owners to find out their secrets: what free fitness activities people can take advantage of, what the biggest misconceptions are about their lines of work, and their fitness go-tos.
1. Nicole Duquette, Hudson Valley Pole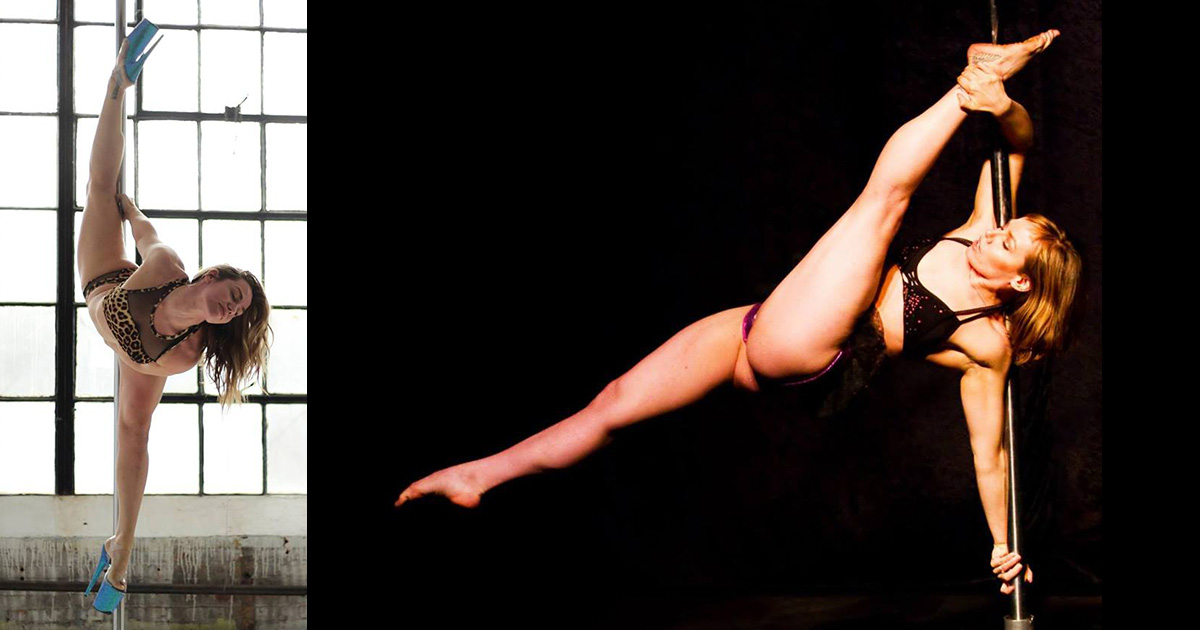 Background:
Hudson Valley Pole is reaching its four year anniversary of operating a fitness/pole studio in Midtown Kingston at The Shirt factory. They've been written up by Upstater and Kingston Happenings, and the owner, Nicole Duquette, lives in Kingston.
Why are people attracted to pole dancing for fitness?
I think that most of the people that come here have already tried the conventional routes, and it's proving to be sort of boring. People come here looking for something that's kind of fun and semi-creative, to play by their own rules. There's only so much you can do on a treadmill or doing burpees. Some people would rather have a chance to have fun while they're working out and get creative as well, where they're not counting down the minutes until they go home.
What is the most common misconception about your gym?
I have a lot of people that come in, take one class and say they have to go work on their upper body strength and come back. Most women aren't inherently muscular throughout their upper body, so it's slightly difficult in the beginning. If you keep coming, you will see improvements in how well you can pull yourself up, and make your own momentum and spin. You're going to feel significantly better/stronger after a few classes.
A lot of people are also a little nervous about showing skin. You need skin to stick to the poles. People are a little concerned about that, but there are so many different body types and we love all of them. It takes getting comfortable in your own skin.
Outside of your gym, where do you like to work out?
I love to do handstands anywhere and everywhere. Sometimes I'll go running even, though I really hate cardio. I never get very far, but it's free, and you can explore your city. I'll run down to Pretty Park, which I guess is really called Kingston Point Park. 
What can people do on their own if they can't access your gym?
I would suggest doing yoga to begin with. There are so many free Youtube tutorials out there to get you started. It's a great way to cross-train for pole dancing: beginning to work on active flexibility, lifting your own body weight, and inverting. You can also try to work handstands, headstands, and forearm stands using a wall, or a beam or a structural pole; feeling comfortable being upside down is a huge part of aerial work. Once you get the basics of yoga, and you keep doing it, a lot of that strength translates to lifting and dispersing your bodyweight more easily on the pole.
2. Dylan Johanson, Innate Movement Parkour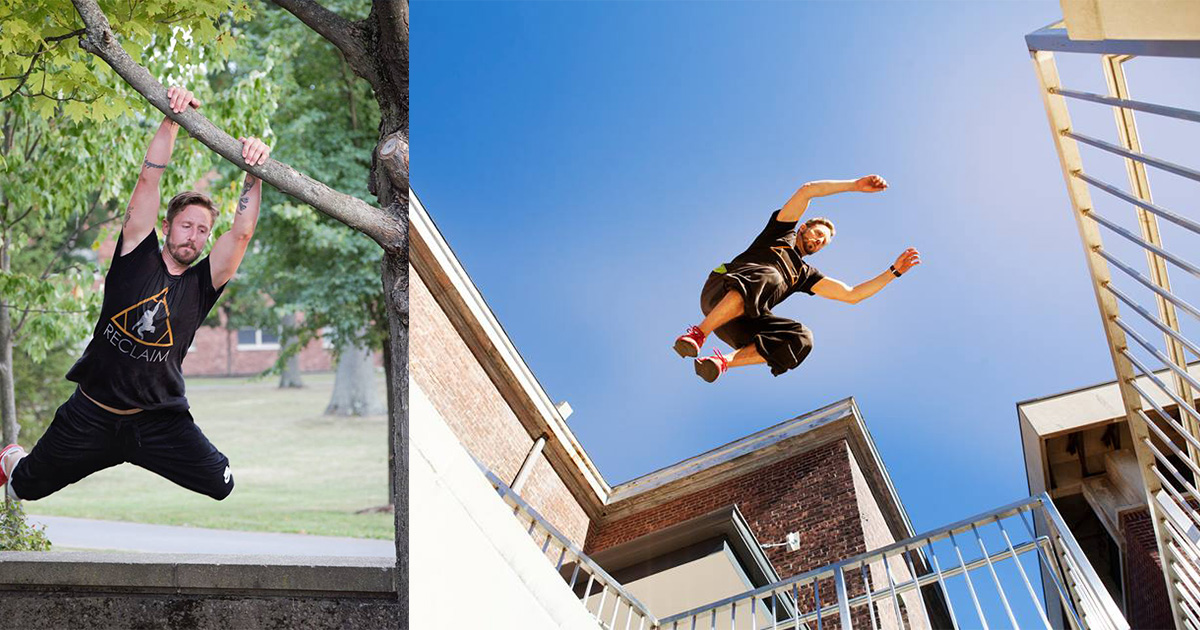 Background:
Innate Movement Parkour has been part of the Kingston area since 2015; they've moved from a space on Route 28, to the Shirt Factory in midtown Kingston, before finally settling into a roomy 3,300 square foot facility at Tech City in the Town of Ulster. Their owner, Dylan Johanson, lives in the Town of Esopus. They've been written up in the Chronogram and Kingston Happenings.
(Full Disclosure: Dylan is the chair of our Play Well committee.)
Why are people attracted to parkour?
Parkour is accessible to everyone everywhere for free. It involves having a mindset of carefully testing yourself through challenges, and testing yourself in gaps in your ability. I think fitness is used incorrectly a lot in the culture; it's a fill-in for looking a certain way, but it's really defining the physical challenges that you're fit to meet.
Everyone has a list with thousands of items. Reaching out and picking up apple is a physical challenge that not everyone can do. Can you walk up the stairs? Can you crawl and get a tennis ball from under your car? They're are physical challenges, and parkour practictioners are methodically exploring and discovering how far in each direction their fitness goes, and learning about themselves, and improving in the areas that they're satisfied in doing.
The difference between parkour and reckless nonsense isn't just finding challenges and seeing if you can do it; the correct approach is, "I'm curious: if I jump, can I land where I intend to?" If you can land where you intend to 10/10 times, maybe you can maybe try landing on a curb. Building the trust that you can land exactly where you intend, you can increase the consequence of failure by going higher, and learning how you can engage in fear.
The reason why parkour coaching exists is to guide for form but also to slow people down a lot of times. People can get pumped because it's so fun; it inspires people to move and find joy in movement. Sometimes not jumping is a very good idea.
Outside of your gym, where do you like to work out?
I've recently become obsessed with disc golf. I play all the time, and I see a lot of overlap, to be honest. You're adapting to different challenges and scenarios. I like the whole idea of stacking utility value or meaning in terms of locations. I think parkour and disc golf have that in common.
We're actually getting one in the Kingston city park system, a very beginner-friendly course. You end up walking a lot, crouching into different positions. Me and a bunch of other people from the parkour gym have become obsessed together, and we've been practicing together in the gym. Something I'm adding for the winter is a disc golf practice night. We wanted to practice our putting. The fact that we have all the equipment creates a lot of obstacles, like an elevated basket, or shooting down from a cliff.
It's just so much fun, even to be a beginner. I've been leading this parkour community, and being the person who knows the most as a sharer and teacher, so it's been so wonderful to be in the beginner mindset. Last summer, I played like a handful of times, and it wasn't that serious. I went with some buddies to Majestic Park in Gardiner. I went a few more times, and I turned a corner in my level of seriousness in mid-August. I was like I'm obsessed with this, practicing putting three hours a day, like a real training regimen. By the time that all happened, all of these gears were in motion. I can't stop talking about disc golf. I've been going to the park in Milan.
I also like to go salsa dancing every week in Rosendale. Kingston has some for sure, but the one I do every week is in Rosendale.
What can people do on their own if they can't access your gym?
Find little challenges, it's only limited by your imagination. There's no specific apparatus that you need, as long as you're being careful and cautious and having good form. You can say, I wonder if I can crawl on my hands feet to the end of this park and back without taking pressure of my hands.
I definitely use the parks in Kingston for training all the time. There's plenty of grass and trees and curbs. Anything where there's a shadow on the ground can constitute an obstacle you can use. Being in a beautiful space and setting, you wonder if you can navigate the tree; I wonder if I can do it five times and I can come down. Our city parks are an amazing resource to do that, but again, safety is important.
Having the parkour vision to find cool stuff in a landscape entirely not built for that, it's possible to find little challenges in a playground. You can do a little floor is lava thing, or destination limitation, finding a little thing to make getting somewhere a little harder. On one leg, with your eyes closed, in one breath, whatever.
3. Alisha Mai McNamara, Hudson Valley Circus Arts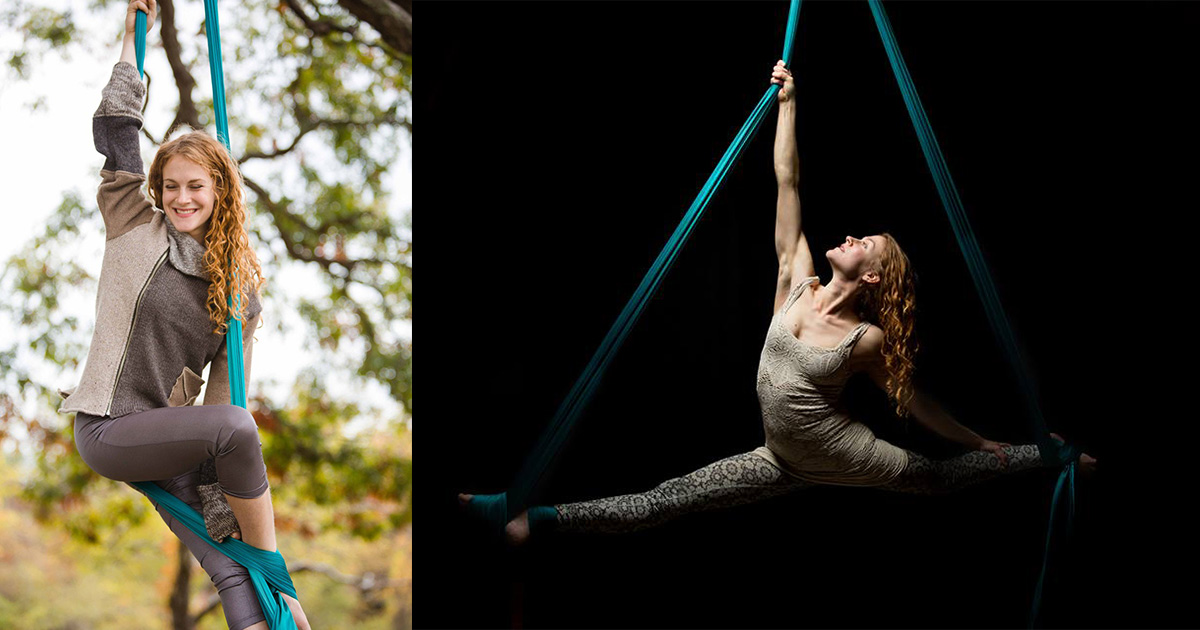 Background:
Hudson Valley Circus Arts is based in Uptown Kingston in the BSP building; they launched in 2016 with a successful Kickstarter campaign that promised to create a circus studio and venue in the Hudson Valley. They've also been written up in Kingston Happenings.
Why are people drawn to the circus arts?
We're super recreationally focused. Our classes are intended for people who don't have experience in circus arts, so people might not come in super fit or super strong. You just need basic mobility and a willingness to try something new and fun. If someone has a major shoulder injury or a major core injury, I'd suggest that you get in good working order before coming to us. You don't have to be a lifestyle athlete, you just need to be able to move your body without pain or no injuries.
Although we have all different levels of students, we want to welcome people who are circus curious, maybe they've dabbled in different things but don't necessarily identify. Our tagline is get fit, have fun, join the circus.
What's the biggest misconception about the circus arts?
People also ask if our rigging is strong enough to hold them, but it can hold a car. We have different levels of classes, and they're absolutely intended for people who've never been in the air before.
Outside of the gym, where do you like to work out?
There's a really cool park on Kukuk Lane, and there's a park called Juniper Flats. There's no signage or anything but I believe it's owned by Scenic Hudson. It's an old IBM rec center, and they just demoed all of the old buildings and things, and there are beautiful fields and little worn foot paths.
Forsyth park is a really sweet spot, sometimes I hand balance there a little bit.
I also love rock climbing; I haven't been doing so much lately with my little guy. We live in an incredible place for rock climbing, also biking. The Shawangunk Ridge is an international rock climbing destination and is incredible. My husband is more of a biker than me, but I like the rail trails and the carriage roads at Minnewaska.
What can people do on their own if they can't access your gym?
If I advise someone not to come to us, it's usually if they have an injury. I always really recommend people to not train on their own; they should work with someone first before they do to get specific advice.
I recommend pilates to people, or a really good yoga teacher. If people have questions about how to work with an injury, they can do beginner classes from there. It depends on the situations people are working with, sometimes people have rotator cuff things, that's something where they can do resistance band training