On Sunday, March 31, women gathered at the Everette Hodge Community Center in Midtown Kingston for the Kingston Women's Bike Festival, presented by Bike-Friendly Kingston. The free, six-hour event featured presentations like an introduction to bicycling, how to buy and maintain a bike, how to bike with young kids, and inspirational stories from women riders. The goal: to remove barriers and empower women with camaraderie, and the ways and means to include cycling in their lives.
The event marked a new high point in Kingston's growth as a bicycling community, with a focus on making connections between different groups and normalizing bicycling as a mode of transportation. Here's what some of the attendees and presenters had to say:
Margie Green
Kingston Resident
Intro to bicycling:
I actually became interested in last year, with the YMCA 5k bike ride. In the summer, I started doing rides with my daughter. This year, we did the Tour de Kingston, and there's so much more to learn.
Bicycling as part of life:
I fit it in as much as I can. We have diabetes in our family, so every bit of exercise helps. We do family rides in the neighborhood around Downs Street, and it's a nice family outing.
Karen Rogers
Presenter from Rochester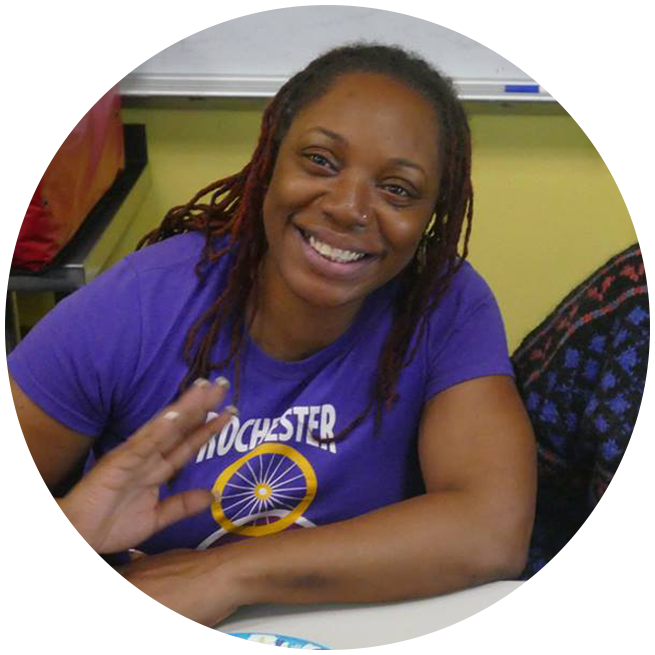 Intro to bicycling:
I had a free membership at the Y, and went to a spin class one day. I'd had kids and gained over 70 pounds. I loved the spin class and became an instructor, and in 2011 I started my own studio where we offer classes.
One day, a friend introduced me to bicycling outside. I had never considered it before. I started, and then we trained over 25 spin class moms to ride outside too. It changed their lives and opened their eyes to seeing the community in different ways, got healthy, lost weight.
Connecting a mixed biking population:
In Rochester, and I believe in Kingston, there's been a mixed biking population. There are people who desperately need the transportation, and there are people who are biking for exercise with fancy bikes.
There can be a huge stigma around biking. When I started riding outside, people were asking, did I lose my job, did I get a DUI? In some communities, when you get a car, you've made it. I tell people that I have a car, but I also have a bike. It doesn't mean I haven't made it.
My goal is to inform women and definitely minorities that if you're going to ride, there's a right way to ride. You can bike, get your kids to school, get groceries, do everything you need to do.
Bicycling in the winter:
My goal this year is to bike in the winter too. This is my year.
Karen was invited to the festival by one of the organizers; in return, one of the organizers, Rose Quinn, will speak at a June 15 Women's bicycle event in Rochester to share insights and experiences from Kingston.
Tracy Austin
Presenter from Rochester
Her passion:
I have a passion for helping women get on a bike. We want to target people who are under-represented in bike culture. I enjoy helping anyone feel comfortable riding in traffic.
Bike infrastructure:
The culture in Rochester is shifting, just like it is here in Kingston. Seven or eight years ago, you just started noticing more people riding, and over time, the different groups have been coming together. Our main group there is Reconnect Rochester (a non-profit that champions transportation choices that enable a more vibrant and equitable community, "whether by bus, by rail, on bike, or on foot.") They're getting funding for a full-time bike advocate.
Shaniqua Bowden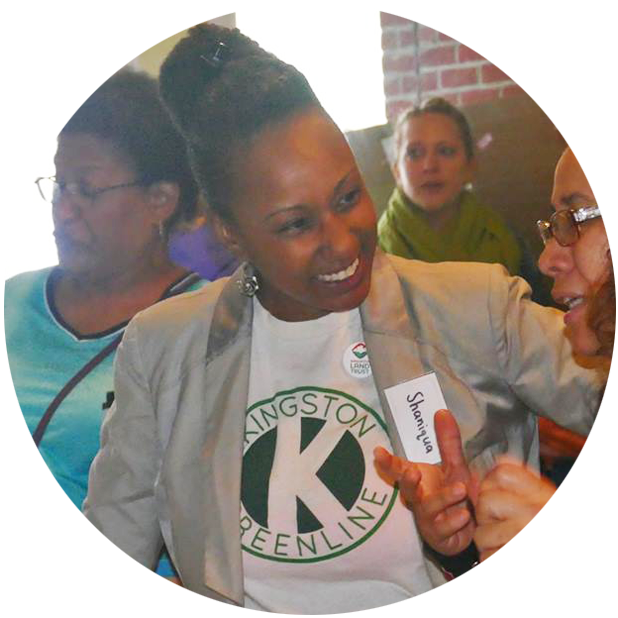 Bridging neighborhoods together:
I think bicycling on the Greenline (and other trails) will condense Kingston and bridge the neighborhoods together. People will be pinging and connecting with one another.
People who already are biking and walking:
People are already using the trails, even though they're not done. People are getting around the city on bicycles and on foot regardless. It's great that these options are getting attention.
Maria Cecelia Deferrari 
Outreach Coordinator, Cornell Cooperative Extension of Ulster County
How CCE programs connect to bicycling:
I work with our Relatives as Parents Program, which provides education and support to relatives who are raising children when the parents can't. We do a lot of fun intergenerational activities, and support physical fitness and health in its totality. Cycling is a great way for all genders and ages to connect and go out to explore the world in a safe way.
Honoring societal contracts with bicycling:
"Everything is interrelated and interconnected. Safety, how we support our families in our communities, feed our families, etc. We need to strive to create the healthiest person-made environments that we can, and honor the social contracts that help create the world as it should be."
Want to connect with the Kingston bicycling community? Check out Bike-Friendly Kingston's website and join the Facebook group, and learn more about Live Well Kingston's Travel Well Focus Team!