With Live Well Kingston, our city is working to build a coalition of businesses, organizations and people who are committed to helping all of us in Kingston live healthier and more active lives. One of the groups that can benefit are our gig economy workers/self-employed/small business owners. They have the dual challenge of navigating health choices without employer-provided insurance while maintaining a work-life balance.
We interviewed seven of our city's small business owners about their successes, challenges, and health tips, and also to learn what upcoming health initiatives they're excited about.
Background: 
I'm 37 years old, and I've always been into hair… styling it, makeup, things like that, but I originally went to school for nursing. I worked as a nurse for eight or nine years, working at Vassar Brothers Hospital (of Health Quest) in Poughkeepsie.
I really enjoyed being a nurse, but cosmetology was my passion. I've had my salon now for eight years.
Staying healthy while starting a business:
It's very stressful. Even though you say your work hours are from 9 to 5, there are no days off, You're constantly working. 
Honestly, when I was starting my business, I wasn't the healthiest person. There are a lot of things I try to do now to maintain my health. My health was on the backburner, and due to my stress, I was at my unhealthiest point of my life. Not really being concerned with what I was consuming, things like that, not exercising. So many different things on my mind, so many different things on my plate. I am in a much healthier routine now, mentally and physically.
Taking the plunge without health insurance: 
It was a very tough transition with regards to lots of different things. When you're working for hospitals and bigger businesses, you don't have to think about health insurance. Regular checkups and things such as that are a given.
I want to say I was paying something like $32 bi-weekly and we were covered for everything. That was something I really didn't think about when I was transitioning over. 
I currently have insurance for myself and my children, but when I was looking I was told to apply online & it was tricky. I went without for a while and it was scary, mainly in regard to not having it for my children. Kids get sick constantly.  I was then referred to an insurance representative at Care Mount Medical and she walked me though the process, submitting all my paperwork and got me the insurance. I'm so grateful to have found her.
Tips for staying healthy:
For my mental health, shutting off my phone is the greatest thing I can do for my mental health. One to two days a week, completely off, no emails, phone calls, or social media. I don't post anything, I don't respond to anybody. That's probably the biggest thing I do. I also like to have my glass of wine every night.
For my physical health, I am a huge fan of apple cider vinegar. I think it's a miracle drug. I consume a lot of apple cider vinegar a couple times a day. I drink tons of water. I haven't really gotten into a gym, but starting this week I'm going to start working out with a personal trainer who's a client of mine.
As a business owner, you don't have a lot of time for different things. A lot of my education in terms of health, different routines is all education from my clients. A lot of them are health-conscious, a lot are personal trainers, one owns a gym. They're really the ones that give me the information.
Favorite healthy place to eat:
Stone Soup. I can always rely on them for something healthy.
Favorite place to exercise:
I actually live a couple of blocks from the Strand, and I get down there a couple of times a week. I walk, we have two dogs. I bring my son down and he'll ride his bike.
Final thoughts:
The biggest challenge for me is that it's tough running your business, running your household, and maintaining your own health. I feel like I come last. By the time I'm done managing my business, taking care of my kids, making sure they have everything they need, I don't have the energy to do what I need to do for me. 
You interviewing me, and questioning what we're doing as small business owners to maintain my health has gotten me thinking. What are we doing? What am I doing? My answer is I'm not doing enough.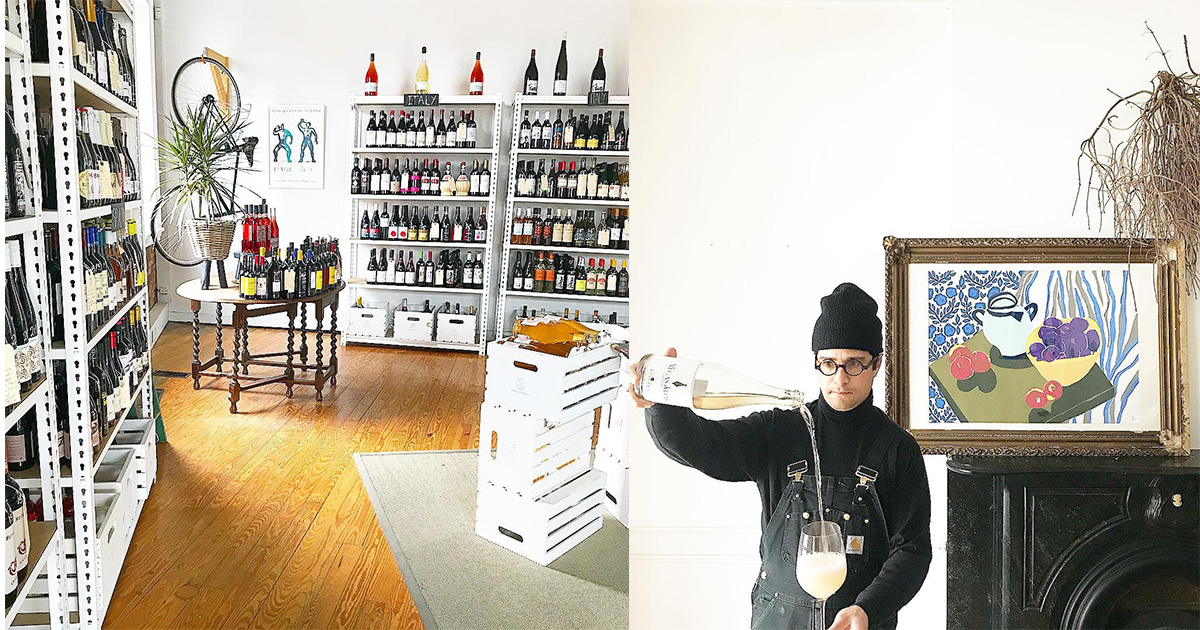 Background:
I was raised outside of Baltimore and moved to NYC in my mid to late 20s. I worked in the wine industry ever since leaving college. I knew 15 years ago that I had to own a wine shop, and ideally be able to walk to work. Being in NYC for a number of years, I knew that I was not able to have the lifestyle I wanted to, so that narrowed things down. I've always had a deep connection to nature, I grew up in the woods, and I wanted to be somewhere where I could have access to that. Kingston was a great place to be able to walk to certain amenities and also have access to natural resources.
Staying healthy while starting a business:
"We opened the shop in January of 2014. I wasn't coming from having employer health insurance, but my wife works for a university system, and we're able to get some assistance there. 
I would say that I quickly noticed that after several months, the amount of time that I had to take care of myself was pretty much decreased by 75 or 80 percent. There was an imbalance, and there wasn't enough time to dedicate to my physical and mental well-being. When you're starting a business it's all in, all of your time, you can basically never stop if you don't push the stop or pause button."
Tips for staying healthy:
"After about six months, I had a moment of reflection. I thought, "Oh goodness, I have access to all these beautiful natural resources, but I'm not taking advantage of them. In order for my business to succeed, to be sustainable, I needed to spend more time tending to my physical wellbeing and health. Living in the City of Kingston provided me a ton of opportunities to do that.
For me, it's a morning walk along the Hudson River to Kingston Point Beach and back. On a daily basis, I walk approximately three or four miles out and back to the shop. It seems to not just be a wonderful physical exercise, but combined with an incredibly beautiful vista to be engaging in before the start of the work day. Often being the only one out there.
I think as a small business owner in a small town, emphasizing a beginning hour and ending hour is important. Defining that space when work begins and work ends is a challenge, because I'm so emotionally invested in the business and community, and I live in it. At times, you can go down the road of maybe burning out a little, and catching yourself when you notice that the lines are being blurred is really important. Even if I have a few hours before work, not being on email, not texting, being on social media, consuming yourself with those activities before work, that's a time-stealer. There goes your escape, your health, your physical and mental well-being."
Favorite healthy place to eat:
I get an hour break for lunch, so I walk up to Village Coffee & Goods, grab something and walk back. That's one place that immediately comes to mind. 
Looking ahead in Kingston:
The Kingston Greenline… we used to partner with them and do monthly Sunday hikes that met here at the shop, and it was a nice way to get people involved with us. I'm so excited for that part of the Kingston Greenline to actually be under construction.
Final thoughts:
What I love about the work that we do is that the product we sell is connected to food. Wine, modestly consumed, as recommended by doctors, is a healthy and integral part of a meal. People are always coming and talking to us about the meals they're making with ingredients that they get from the farmers' market. We're part of their overall well-being and well-roundedness. Being a complement to that homemade meal is a rewarding and intimate experience.
We share a lot with our customers about our days, talking about walks around the city that we've done, urban hikes if you will. All the Scenic Hudson properties within a few minutes of Kingston, it's a narrative that happens on a daily basis around the shop. Healthy lifestyle is a dialogue that happens daily. On social media, we try to share some of things that we go outside of Kingston and Catskills where we hike. It's not always, "which wine goes with tilapia," it's, "tell me what hike you went to in Tannersville."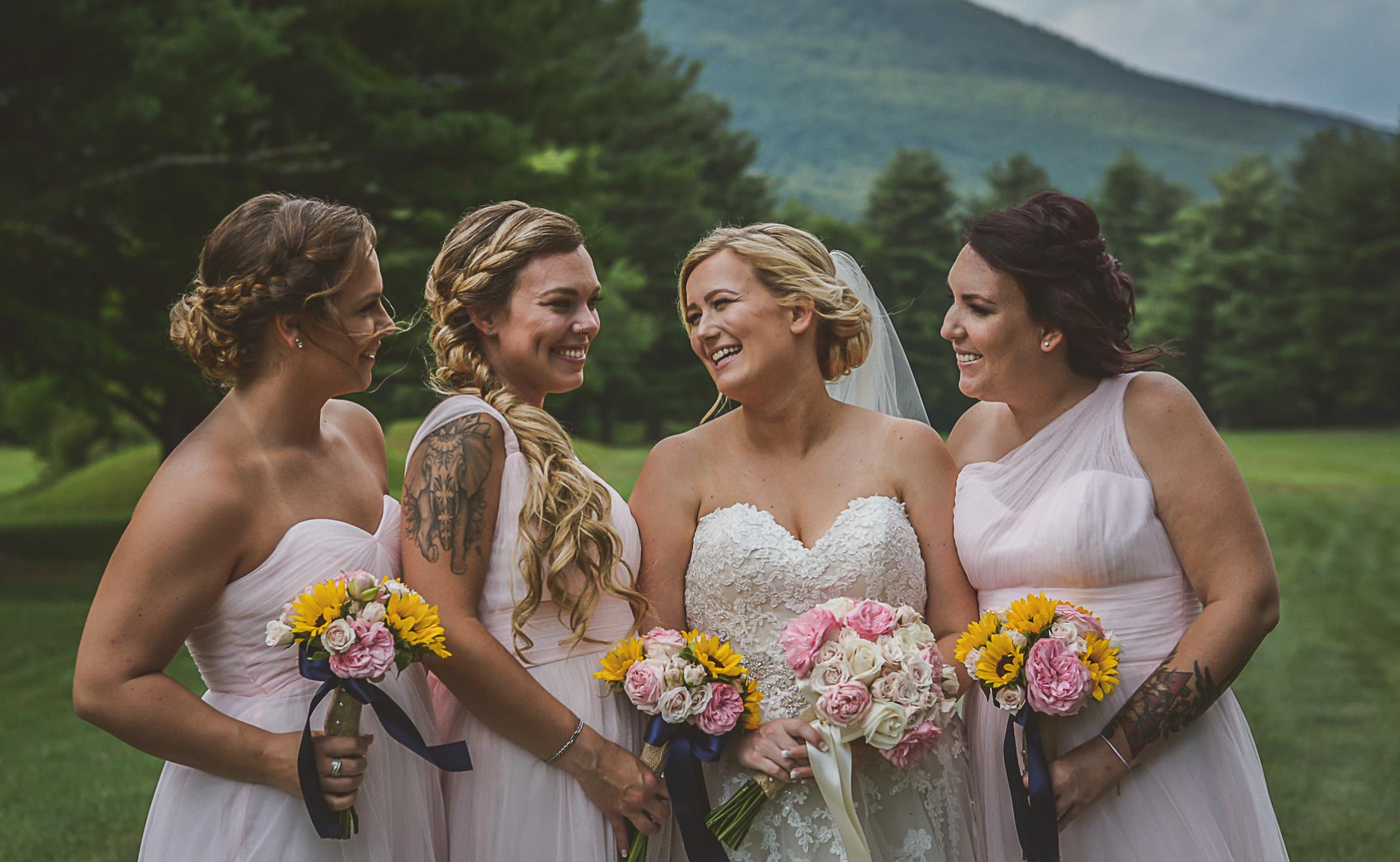 Background:
I used to work at Benedictine Hospital (now the HealthAlliance of the Hudson Valley Mary's Avenue campus) here in Kingston as a medical tech in the post anesthesia recovery room. I was there for a few years, and I was in numerous doctors' settings. I always had a camera in my hand in my free time. I got in a car accident in 2013, and I had to give up my position at the hospital. My hobby in photography became a full time way to support my family.
I'm based in Eddyville, and I do a few weddings a year, some maternity and first birthdays.
Taking the plunge without health insurance:
We were without insurance for almost three years. We paid out of pocket, and our doctor's office was pretty good. We only had to pay a small fee for visits. Everything that was wrong with me at the time was already covered under our car insurance. I was on disability, and then when  we weren't making that much money, we were able to get insured through the insurance marketplace.
Working in the medical field, you were always around someone who you could ask health questions to. Being on your own, you have to pick and choose when you see the doctor. You kind of brush it off. It's a really drastic change.
In the hospital setting, you're moving a lot quicker. You have a few minutes to eat, if you eat at all. The quality of food is not so great, so you're always eating something quick, unhealthy. But you're also moving around and burning the calories. With photography, you're standing around, but you hardly eat. You get a granola bar, or whatever is at the venue for the wedding. When you're home, and editing, you're sitting, you're comfortable. It's easy to grab not so good things because you're burning the midnight oil to get these photos done.
How insurance helps:
We've had insurance a little over two years now. We're a household of four, and we don't have to pay that much into it. It's really beneficial to my husband, he had a heart attack five years ago. Having health insurance means a lot to him, because he takes six pills a day. Without it, we'd be screwed. It's life-sustaining.
Being overweight is an issue, so I went to my PCP, and I said I'm trying, I'm trying to go smaller portions, but I'm not losing a single pound. I'm not gaining a pound, I'm not losing a pound, she did blood results and they came back that I'm severely vitamin D deficient. That's part of the reason I wasn't losing any weight. I've been on supplements for three months and I've lost 15 pounds. I was also getting meralgia parasitica. The nerve in my hip was being compromised, and it was causing me extreme pain. I couldn't sleep or walk, and I'd have pain at night. Since I've been taking the vitamin D, I have some pep in my step, my body feels better, and I like it.
Health is expensive:
In order to be fit, in my opinion, it costs you. Money is tight in our household. We stretch it as far as we can, my husband and I both own businesses, but in order to be healthy you have to spend a lot of money. You need a gym membership, you need time to go, and if you want a personal trainer, that's a lot of money.  It shouldn't cost you money to be healthy.
Favorite healthy place to eat:
I wish there'd be a place around here (Eddyville) where you can and have a great fresh salad or great wrap. Everything is fast around here. You have to drive to Kingston. There's Stone Soup, they have some decent healthy choices, but it can be busy.
Looking forward:
You don't always get to make smart choices when it comes to eating, or drinking water. You're so focused on doing the job, making sure it's done right. I forget to stay hydrated, and I had the experience of collapsing in front of the bride and groom. I try to have a granola bar on me, in case the food options at the venue are not so great. I know that at least I have some kind of protein.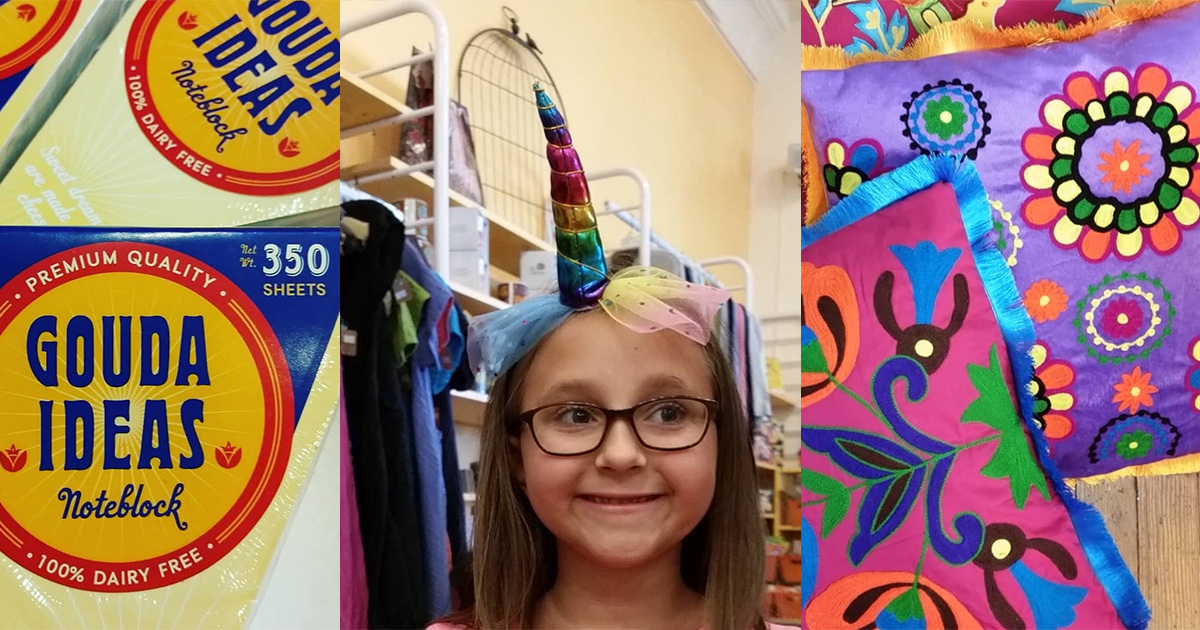 Background:
I ended up in Kingston through a very circuitous path in Boston to apprentice with someone. I was reupholstering furniture back in 1981 for about two years. Then I became aware of a local company that was manufacturing high-end children's clothing. I applied for that job, got hired for that position. I managed that company for about 11 years, then went to work for Woodstock Percussion, and ran the Anyone Can Whistle retail store on Wall Street for about seven years, and then opened Bop to Tottom 18 years ago. Making the decision to open my own business was the best decision I've ever made in my life.
Health challenges while starting a business:
Starting your own business, you live it, you eat it, you drink it. You're there 24/7, and you get stressed out. I've had an awareness/mindfulness practice for a long time. That kind of got shelved when I was getting things off the ground. There was a day that was horrific, and at the end of the day, I crashed and burned. I was like okay, I gotta get back on the schedule of taking care of myself. Without me, there's no business. You really have to embrace that, so you have to take penultimate care of yourself. Without you, you don't have a business.
Expensive health insurance:
I had health insurance through my employer; when I went out on my own, I joined the Chamber of Commerce to have access to group health insurance. I was paying my own health insurance, and am paying it to this day. That sole issue is huge for business owners. Health insurance is astronomically expensive and out of reach. Whenever there's extra money, you use it to pay the bills, not for your health insurance. I know several business owners without health insurance.
Tips for staying healthy:
I literally schedule time during the day to eat, to get away from my computer screen, to interact with people, to maintain my mental health. I find that I need to get away from my computer every couple of hours. I make it a point to get up from my desk, walk around the block, try to have some human interaction instead of spending so much time in front of the screen.
Favorite healthy place to eat:
Sissy's. I can walk in, and get something vegetarian and high protein, like a protein shake that'll carry me for a few hours until the next meal. What grounds me is getting out into nature. When I take a screen break, I'll go over the Senate House grounds and walk around, and listen to the birds, look at the sky, be in nature to kind of get my bearings back.
Favorite place to exercise:
Many times I go to Kingston Point Beach. I'm a water person, and being near water is critical for me, and it feeds my soul. It gets me straight and right with the world. I walk a lot and do walking meditations all the time.  Forsyth Park too.
Final thoughts:
I think people's health and wellness is very much a personal matter. It's really an inside job. We all need to take care of ourselves. We also need to stay tuned into each other.
With everything that's going on and social media, I find that we collectively as the people, we seem to be screening humans out. That's a concern. We're social creatures. It's important to maintain social interactions with people.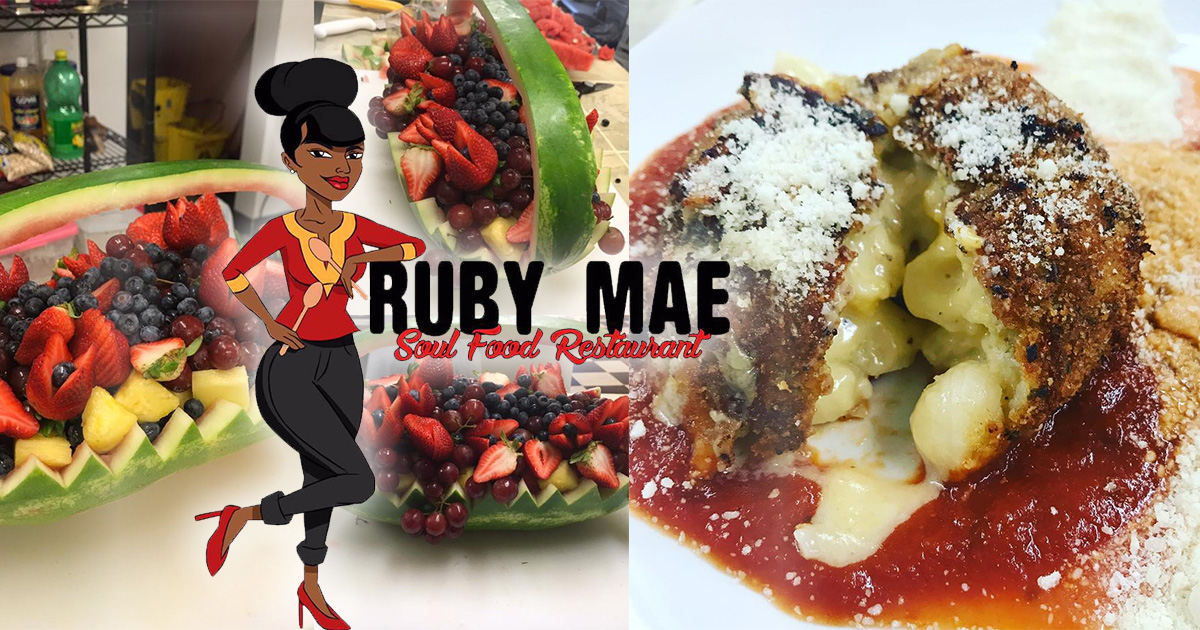 Background:
I relocated up here about nine years ago from the Bronx. I noticed there was a lack of diversity in the food. I was like wow, I want to open something that reminds me of the city, and also reminds me of my grandmother. We originally opened up in Poughkeepsie in 2014, closed that location down, then came to Kingston and have been doing extremely well since then.
Taking the plunge without health insurance:
I had been working through the U.S. Post Office, an d it was a hard transition. I went without health insurance for a while, but it was me pursuing my dreams.
It's always crazy, when you're running your own business, you really don't have the time for yourself, like to go to the doctor's office. I've been having a toothache for the last month, but I haven't gone to the doctor, because there's always something with the business that has to be handled. I'm now structuring the business so I can take care of myself, but the business can still thrive without me.
Tips for staying healthy:
I'm trying to stay up on regular doctors visits. We can get so involved that we don't take care of our own health. Definitely in the restaurant business because it's so demanding. But, I'm trying to live a well healthy balanced life, by eating healthy, staying active, and I'm trying to join boxing class and yoga classes as well. Most importantly making time just enjoy life with family and friends.
I am a very spiritual person, so I love going to church. I love playing with my dog Snoopy, going for walks with him, taking him to the park. It was hard at first with the restaurant, getting things together. I wasn't able to go to the gym, go work out. I want to get back into boxing and maybe yoga as well.
Favorite healthy thing to eat:
My go-to is a salmon salad or shrimp, like a grilled shrimp salad. Eating lots of fruits and vegetables, drinking lots of coconut water.
Final thoughts:
My advice would be to always chase your dream. You only get one chance at life. You can't go back and change any decisions you made. Chase it with everything that's in you. Never give up on it. Don't throw in the towel on it. I did it with Ruby Mae, and now it's successful, we're looking to open two new locations next year. Don't neglect yourself and your health. If you're chasing your dream but you're always in the hospital, always keep a balance in your life with chasing your dream and making sure you're healthy while doing it.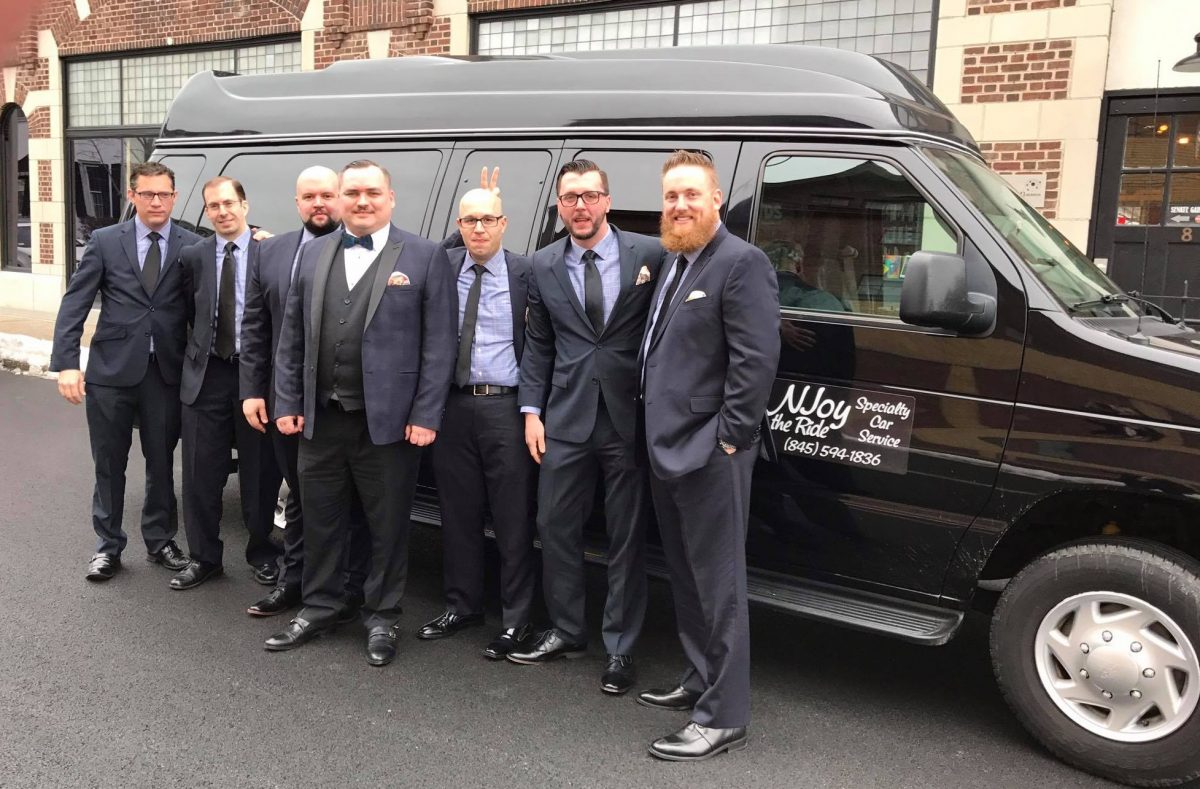 Background:
We are a personal car service. Njoy the Ride. We don't taxi people. We are for hire, we do work with a lot of groups. Big groups that like to tailgate and drink responsibly, or people who want to be together in one vehicle and travel. Concerts, food tours, historic stuff. We do wine tours, brew tours, we also do a number of airport runs train runs, etc. People do book us ahead of time, or at that moment, and we kind of go.
I've also been promoting local businesses in Ulster County for 10 years. I have a radio show called The Happy Hour with Nadine. People can come on the show, talk about their business. People can call into any show that I have. I also try to cover as many not for profits that I can.
Taking the plunge without insurance:
I worked for the YWCA of Ulster County for about 12 years. I was their PR coordinator, and I quit my job to watch my grandson. As it came time for Jack to go into pre-school, I was bartending at the Kozy Tavern. I saw such a need that people would have a few drinks and get in their car, I would tell people that I wouldn't mind giving them a lift. It would take us an hour to bring everyone home after closing up. There really is a need for that… I love to be the person who gets them home.
I went with no insurance for about nine months. That was a little scary. I looked into getting some insurance. My husband and I do this business together, so we now have insurance that we pay for every month.
Tips for staying healthy:
It's not something you can do all by yourself. I didn't want to hear from anyone, burden anyone, and I wanted to do it my own way. It's an adventure of the heart and the soul. Ask for help. I think we live in a perfect community, if anyone is looking to start a business, they should reach out to someone with a similar business, and ask their advice. If you're having a problem, there's great opportunities with yoga, meditation, exercise classes. If you're stressing, everything has been through this. My advice is to ask for advice. I couldn't have done half of what I do without the help of friends and community. 
I still am learning to be in the moment a little bit more. It's overwhelming, and very nerve-wracking to start my own business. Not eating as well, not exercising as well, whatever. To slow down my mind a little is what I've needed to do.
Favorite healthy place to eat:
We come from two big Italian-Irish families, so we're cooking all the time. Jim is always cooking enough for ten people a night… which is hard to eat in small portions. It's a way for us to relax as well. We were always conscious of making sure that we stayed in touch and doing things we like. That's just another way of us having some down time together.
If I'm getting off the Thruway, I can tell you that 9/10 times I'll go to Ecce Terra, I can grab a salad to go. She makes these acai bowls which are great. We also pack little coolers with something when we're driving far. There's always something healthy, fruit, coconut water, we try to take a little bit with us.
Favorite place to exercise:
My husband and I bought these beach cruiser bikes, and on nice days and evenings, we leave our phones home and completely disconnect and take these little rides. We kind of start up by Mickey's Igloo on East Chester Street. We head downtown, all the side streets, and we live riding on the Strand, checking out the boats and creeks. Now, we do spin class with Rachael Gordon at Studio 9 in the 721 Media Center at least twice a week. I'm going to be honest, my husband is better at doing that than I am. I'm not that good at it. Exercise is not a big thing to me, I'd rather lay outside and chill. Even reading and doing researching is relaxing for me.
Looking ahead:
I'm really excited for everything going on. I think it's becoming bike friendly, it's a big pastime in our community. You can do it with your family. Our beach cruisers are our relaxation in this point, and I'm exciting for the area to be made bike safe to do that.
Background:
I came here about five years ago with my wife and my son who was fifteen at the time, and my daughter just nine months. We came from the Bronx, wanted to move to a better environment for the kids, more trees, less concrete, quieter. We came to Kingston, we weren't involved in the community like we are now. We moved over the Lace Mill a few years later. That's when we started My Kingston Kids in 2015. 2017 was our first hard launch where we really became active in the community.
My both own companies. I'm an entrepreneur. I have a graphic and web design marketing company called 1209Arts. I've had that for 15 years, almost 20 years now. I brought that with me. My wife has her own company.
Affording health insurance while self-employed:
Staying healthy… That's always been the issue. Being a freelancer, running your own business, medical insurance is hard to get. That's always a challenge… unless you get really shook and have to go to the hospital. I watch what I eat, watch what I put in my body, be super careful.
Tips for staying healthy:
My #1 key is to go to sleep on time. Sleeping is very important. I make sure that I get the adequate amount of sleep. I try to manage my time properly so I'm not running all over the place meeting a million people. Keeping a reasonable schedule as much as I can. I try to take vitamins, take certain supplements. I eat tons of vegetables.
Favorite healthy place to eat:
I've joined a CSA at Seed Song Farm, that ensures that we have vegetables on a regular basis, and it's affordable. It keeps you going, keeps your energy up.
Favorite place to exercise:
I'm not a big exercise person, so I don't really go to the gym. I'm a computer guy. I don't like moving… but I do walk a lot. Uptown to Downtown, wherever. It's great because you get to meet folks while you're walking, always discovering something new.
Looking ahead in Kingston:
I'm excited about the Greenline. I live near Cornell, so that's great to take that nice stroll all the way up to Uptown, to Hannaford. That's going to be fantastic. 
Final thoughts:
The key thing is to try to maximize your time, so you're not exhausting yourself. Spread things out, there's no need to rush into anything. Make sure that you eat. You can get into your groove and forget about eating. Be mindful that food gives you energy. As long as you eat the proper food, it'll keep you going. And sleep… success doesn't come without sleep. You need the right amount of sleep to get the proper amount of energy, and the opportunity to refresh your mind and body for the next day.