On the eve of National Breast Cancer Awareness Month, a Kingston-based photographer is making waves nationally with a decade-long project that celebrates the beauty and strength of breast cancer survivors. She's also helping to promote two Kingston-based efforts that support people who have breast cancer.
It's called The Grace Project, and it's driven by Charise Isis, who has lived and worked in Kingston for the last twelve years as a commercial photographer. On October 1st, the Today Show will air a segment on the effort. The project has also attracted the attention of the Huffington Post, WebMD, Refinery29, Cosmopolitan, Daily Mail, Bustle, Elite Daily and many more.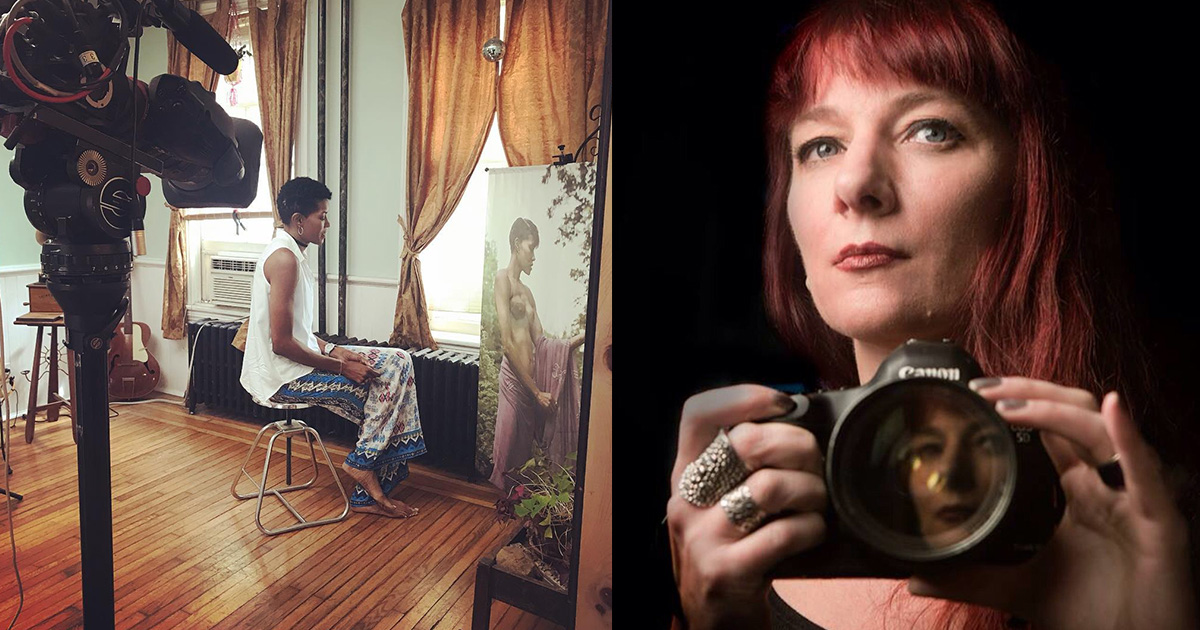 Working from her studio on Broadway in Kingston, she's collaborated with a number of local healthcare organizations, including Breast Cancer Options and HealthAlliance of the Hudson Valley's Oncology Support Program.
The origins of the project are kind of a coincidence, Charise says.
Primarily a boudoir and pinup photographer, Charise says that women often leave her studio having had transformational experiences, with a better view of their body and sexuality.
"About ten years ago, a man called to book a session for his wife," she says. "He hadn't told his wife that he was contacting me, which was odd, but then he called back and his wife had agreed to do it. This beautiful, vivacious 62-year old woman showed up at my studio, and she had all of these hatboxes and hangers with her."
She had a confession to make: she was a 12-year breast cancer survivor, and she needed all of the clothing because she felt mutilated.
"She said her husband wanted her to feel the way boudoir women feel after leaving the studio," she said. "I thought it was a beautiful gesture."
As the session went on, the woman became more and more comfortable; uncovering her non-mastectomied breast and eventually her mastectomied breast.
"She said, 'OK, I'm doing this," Charise says. "I saw someone letting go of 12 years of shame from their body. It was one of the most powerful photographic moments I'd had up to that moment."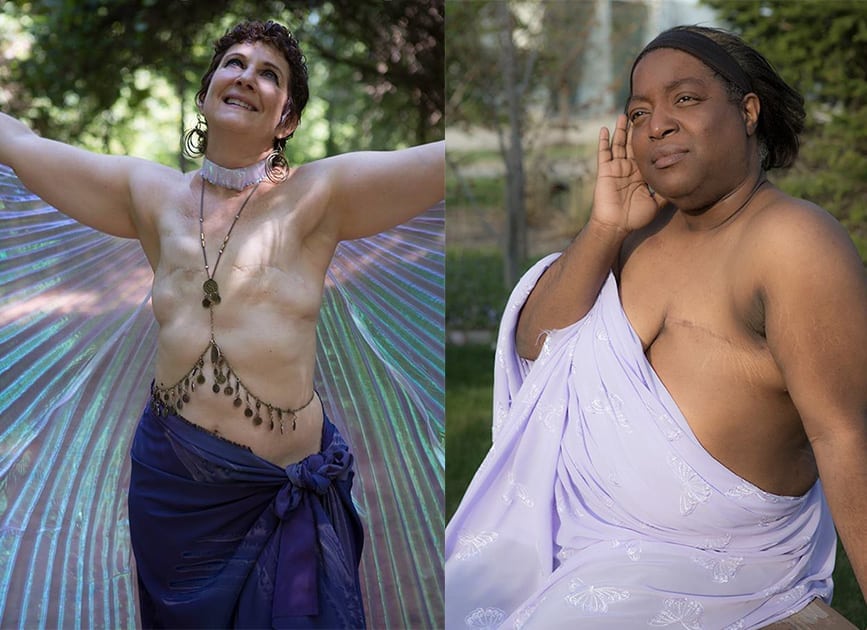 Two weeks later, by happenstance, another woman who was undergoing treatment for breast cancer contacted Charise for a session. At that time, she started looking around on the Internet for other examples of mastectomy photos.
"There were all brutal photos of women's torsos from the top of the neck to below the belly, with harsh medical lighting," she says. "There needed to be faces. I wanted to show the beauty and courage that still existed in these women. I started putting it out there into the world, and as of now, I've photographed over 400 women, and a few men too."
Charise's goal is to photograph 800 subjects, representing the number of people who get a diagnosis of breast cancer every day. Funded by individual donations (via fiscal sponsor NY Foundation for the Arts), she travels throughout the United States for shoots with both individuals and groups, while showing her work in a variety of venues.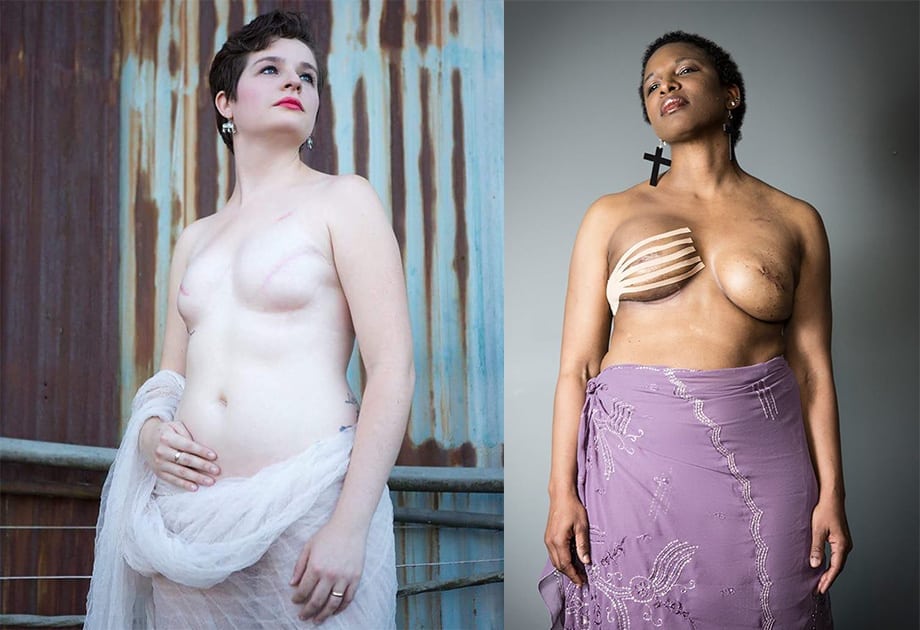 Hope Nemiroff, the Executive Director of Breast Cancer Options, says Charise has photographed women at the organization's retreats for women with metastatic breast cancer at the Omega Institute.
"I came to Omega one day, and there were women on the deck without their shirts on for the retreat, getting pictures taken," Hope says. "It was really interesting she could walk into a room and do that. Normally, people get very embarrassed. She made them not feel different, which is great. She's done remarkable work with these women, and she's one of the few who's doing it for them… the metastatic population often gets overlooked."
"It was early on in the project, the women at the retreat were at Stage 4," Charise says. "When you're Stage 4, you're terminal. It really informed a lot of the way that I went forward with the project. The first woman I lost from the project was from the retreat. We had a really profound photoshoot and connection."
Charise says she's become an advocate for women with Stage 4 cancer.
"That's the cancer that kills," she says. "We all know breast cancer is out there, but I want there to be more money put toward research on Stage 4."
About The Grace Project
You can learn more about The Grace Project at their website or by following them on Facebook and Instagram.
About Breast Cancer Options
Breast Cancer Options focuses on providing services for people who "fall through the cracks." They have an active mailing list and calendar that focus on things that often do not come up in doctor's visits, and facilitate survivor-led support groups as well as a camp for children of people with breast cancer. They're holding a fund-raiser on Sunday, November 4 at Keegan Ales titled "Psychic and Healing Fair," where 50% of the proceeds from readings and healings will be donated to them.
About the Oncology Support Program
OSP was founded in 1994 and operates across the street from the Mary's Avenue Campus of HealthAlliance Hospital. It serves anyone who has experienced or living with cancer of any sort, with services ranging from arts and wellness classes, education, workshops and discussion groups.