Being able to get groceries, prepare them in some way and have a healthy meal is something that many people take for granted. Unfortunately, even if one qualifies for benefits or lives near a food pantry or soup kitchen, many people aren't able to actually benefit from the services due to a variety of reasons.
By the numbers: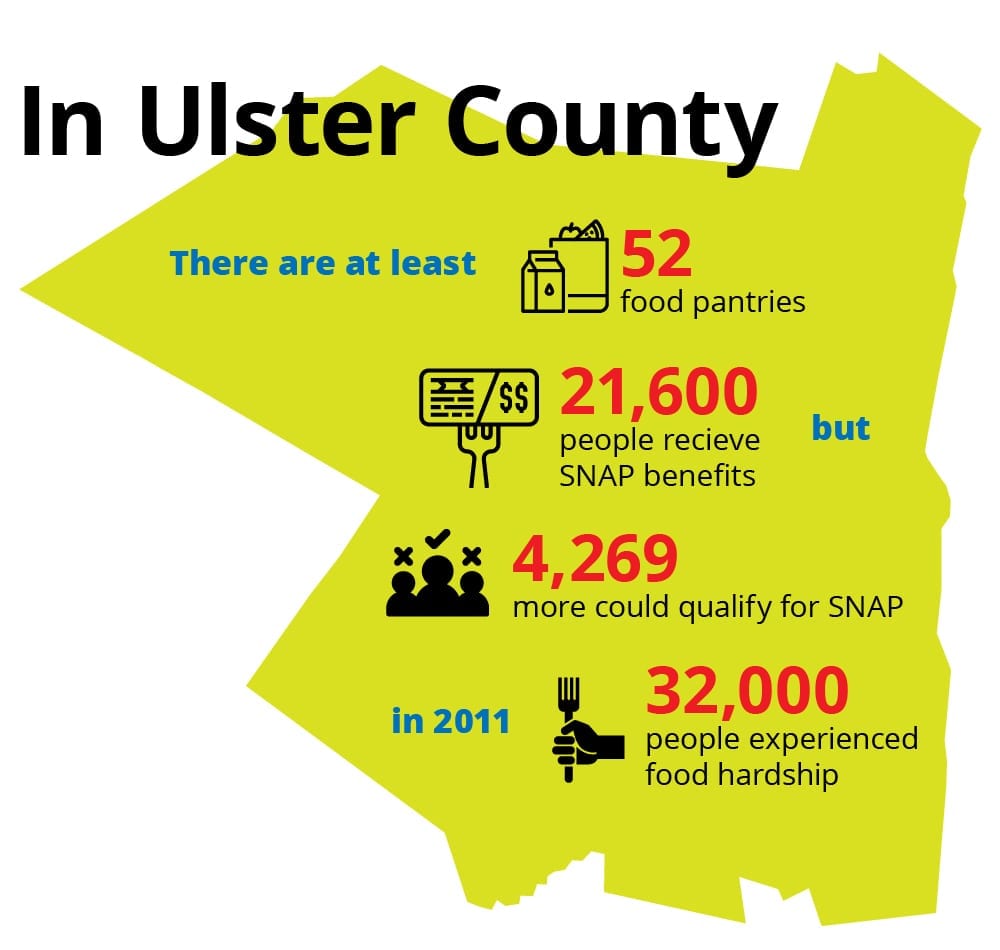 There are at least 52 food pantry locations in Ulster County.
About 21,600 people in Ulster County are receiving Supplemental Nutrition Assistance Program (SNAP) benefits
Another 4,269 households in Ulster County qualify for SNAP benefits but are not receiving them for a variety of reasons.
About 32,000 are estimated to have experienced food hardship in 2011
(Food hardship – defined as answering "Yes" to "Have there been times in the past 12 months when you did not have enough money to buy food that you or your family needed?")
According to a 2016 report by the Community Foundations of the Hudson Valley, there are four main barriers to food security:
Money – "Many people… are making difficult choices between purchasing food to feed themselves and their children, or paying for rent, utilities, medical bills and transportation, often watering down food to make it go farther."
Access & Transportation – "Regular travel to supermarkets and food pantries is challenging – taxis are expensive and bus routes and food pantry schedules can be impossible… those who are homebound or have limited mobility must rely on the kindness of friends, neighbors and nonprofits that deliver food."
Life Challenges – "Yet other life events, such as a medical issue or loss of a spouse, job or mobility, can cause a rapid descent into food insecurity."
Stigma – "Many people don't want to be seen accepting help… especially if they've been self-sufficient in the past."
Today, we're highlighting two (of many) initiatives in the City of Kingston that are finding ways to combat the Access & Transportation barrier to food security.
The Food Cupboards at Yosman Tower and Governor Clinton Apartments
A partnership between The People's Place, Family of Woodstock, UlsterCorps and Landmark Development Co.
Yosman Tower and Governor Clinton Apartments are two affordable housing buildings in Kingston that have close to 200 combined units. While the Governor Clinton is within walking distance to the Kingston Farmers Market, Hannaford, and the People's Place, and Yosman Tower is a 5-10 minute drive down Broadway from Governor Clinton, not all seniors are mobile enough to get to one of the places where they can pick up groceries.
Kingston and Ulster County are kind of special in how closely many local non-profits are collaborating to address problems. Collaboration starts with conversations; in this case, it was a conversation between Christine Hein, the Executive Director of the People's Place food pantry, and Francesca Ortolano, the building manager of Yosman/Clinton. Both of them participate in focus teams with Live Well Kingston, including Eat Well and Age Well.
"The Yosman Tower and Governor Clinton buildings already had food cupboards for the residents, and we were talking about the issue of mobility and transportation," Hein says. "If individuals are mobile, they can come here to get produce, fresh bread, lots of protein choices. But not everyone can make it here."
Starting in January of this year, the People's Place has had a couple of UlsterCorps volunteers delivering food and produce for the cupboard program.
"It's a little different; the food we send there is shelf-stable," says Hein. "We have a good number of individuals who are using the program, and many of them have signed up for our Thanksgiving turkey program."
Kenneth Oldehoff is one of the UlsterCorps volunteers involved in the program and knows a thing or two about feeding lots of people. Before retiring, he worked for over 30 years in food service at Vassar College.
"I retired, and I was looking for something to do and got involved with the UlsterCorps Farm to Food Pantry program," he says. "I started working with the People's Place farm stand on Tuesdays, and there was a concern that people with a lack of mobility aren't able to get to pantries. We're trying to look at the obstacles and find a way to overcome them."
The Institute for Family Health and the YMCA Farm Project
Another project that brings food to the people who need it is the partnership between the YMCA Farm Project and the Institute for Family Health.
Kaycee Wimbish, one of the co-founders of the Farm Project, is in her fifth season with of farming a quarter of acre land in Midtown Kingston alongside students from after-school and summer camps. The food is then sold at various farm stands and through mobile market programs, including one at HealthAlliance of the Hudson Valley's Mary's Avenue campus.
With the Institute for Family Health, Wimbish has a healthcare partner that is instructing their patients to eat healthy vegetables through their prescriptions. The prescriptions can be redeemed at the YMCA farm stand, which has had hours in the Institute parking lot from 11 to 1 every other Wednesday (the season is ending this month).
"We received a Farm Fresh food grant through Community Foundations of the Hudson Valley, and it seemed like an appropriate opportunity to collaborate with the Institute of Family Health," Wimbish says. "They were very enthusiastic and receptive at the idea of doing a farm stand at their clinic and doing prescriptions. We just kind of figured it out."
Over the years, Wimbish has found that partnering with anchor institutions in the region has helped farm stand initiatives be more successful, as institutions have marketing and advertising infrastructure to get the word out and a base of employees who will patronize the stand.
"With the Institute, there's a segment of the population that we're trying to reach: people who have limited access to fresh produce," she said. "Some people are coming with the prescription, most people are not. It's just a free farm stand for whoever is there; the patients, the taxi and ambulette drivers, and even employees walking over from Gateway Community Industries."
This is actually the only free farm stand that is being offered by the YMCA Farm Project, to encourage people who don't seek out vegetables to try something new.
"People are much more willing to take something if it's free," Wimbish says. "They would never buy a bok choi, but they'll take a free one. There have definitely been instances where people tried something and liked it and come back for more."
The program fits into the Farm Project's long-term vision of changing who feels included in the local food scene, which includes offering cooking instruction to children and teenagers.
"We want everyone to feel welcome in these food and farmer spaces," Wimbish says. "There's a population that doesn't seek out farm stands. It's not just for white people with disposable income. Local food needs to include everybody."
Want to be part of the next great local health and wellness partnership? Or do you want to hear about what's going on? Check out our calendar of upcoming events and focus group meetings and become part of Live Well Kingston!